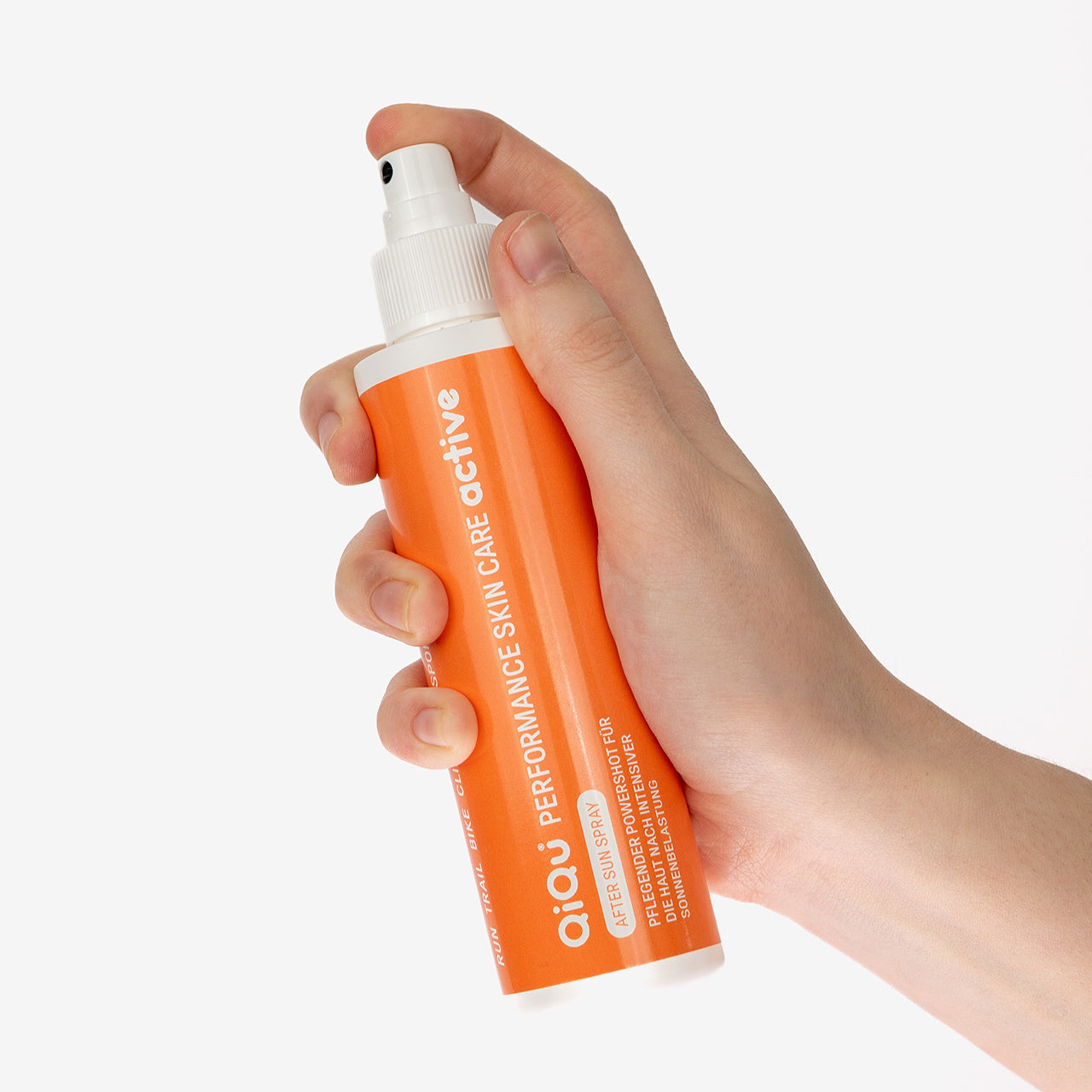 QiQu active After Sun
Performance Skin Care After Sun Spray
150 ml
Im intensiven Sport gibt es häufig keinen Schatten für deine Haut. Wenn die Haut aber von intensiver Sonneneinstrahlung gereizt ist, brauchst du eine superschnelle Regeneration für danach, damit der nächsten Leistung nichts im Wege steht. QiQu Active After Sun Spray ist speziell formuliert für die Anforderungen von Sportler:innen.
Die Ultra-Membran von QiQu active bildet auf der gestressten Haut sofort nach dem Auftragen eine hauchdünne, atmungsaktive Membran. Die Ultra-Membran als multifunktionales Biopolymer stärkt die Abwehrkraft der Haut und stabilisiert das Mikrobiom aktiv. Die antimikrobiellen Eigenschaften beugen Entzündungen vor. Deine Haut erhält Sofort-Schutz, Power-Regeneration und Intensiv-Pflege in einem. Performance auf Grundlage der Natur. 
Aqua, Glycerin, Pentylene Glycol, Chitosan, Urea, Ascorbic Acid, Lactic Acid, Glycolic Acid, Citric Acid, Potassium Sorbate, Polyglyceryl-10 Laurate

Optimale Hautpflege und Regeneration nach einem Tag in der Sonne. Nach Bedarf mehrmals täglich die betroffene Hautstelle dünn einsprühen und vollständig trocken lassen.

Delivery only within Germany. Free shipping from €29.00. For less than 29.00 euros, standard shipping with DHL costs 4.50 euros.
The acute care gel for mild skin irritations
Immediately after application, QiQu active forms a breathable ultra-membrane - like a second skin - on the stressed and irritated area of ​​skin.